Raymond Crowe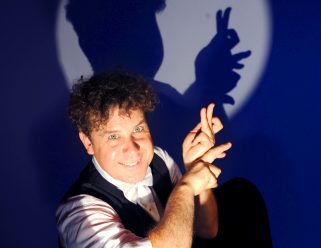 RAYMOND CROWE – The Unusualist.
Australian-born Crowe has charmed audiences all over the world for the past 30 years. He's called the Unusualist for a good reason — there is no other entertainer like him!
He is a world-class magician, physical comedian, trained mime, ventriloquist, inventor and master of intricate shadow puppetry.
In addition to regularly performing his own popular touring shows, Crowe is also a highly sought-after entertainer for international and domestic television and corporate events.
His signature piece "The Shadows" has become an internet phenomenon, with more than 200 million people enjoying it worldwide, and features his astounding and intricate hand shadows to the Louis Armstrong classic "What a Wonderful World."