American Made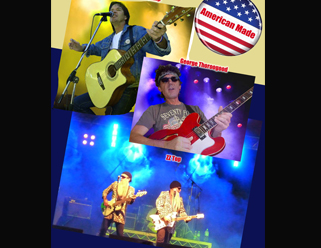 American Made Tribute
A brilliant tribute to three of America's greatest guitar rock acts.
ZZ Top still perform today, and back then smashed the charts with "Gimme All Your Lovin'", "Sharp Dressed Man", and "Legs". These hits saw them become one of the most popular MTV television channel acts, and made them one of the more prominent artists in 1980's pop culture.
John Cougar Mellencamp with hits like "Hurts So Good," "Jack & Diane," "Crumblin' Down," "Pink Houses," "Lonely Ol' Night," "Small Town," "R.O.C.K. in the U.S.A", "Paper in Fire," and "Cherry Bomb all feature in the show. American Made wouldn't be complete without a salute to George Thorogood. Blues rock at its best, with classics like "Bad to the Bone", and "I Drink Alone" He also helped to popularize older songs by American icons, such as "Move It on Over", "Who Do You Love", and "House Rent Blues/One Bourbon, One Scotch, One Beer"
A must for raw energy rock lovers.