Johnny Cash Tribute Show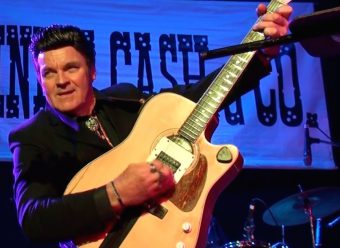 Johhny Cash Tribute
Johnny Cash Tribute Show
Johnny Cash was one of the most sought-after musical acts of the last century seeing him become the most popular country music artist of all time.
Signed to Sun Records in 1954, Johnny Cash pushed the boundaries of Country and Blues music, all the while performing live concerts and presenting his unique country style to the masses. Chart topping hits like 'Folsom Prison Blues', 'Ring of Fire' and the world smash 'I Walk the Line' launched Cash into legend status.
His unique sound embraced rock and roll, rockabilly, blues, folk, and gospel.
Johnny Cash and his backing band Tennessee Three were characterized by their train-sound guitar rhythms, which helped revolutionised the country music scene.
This crossover appeal won Johnny Cash the rare honour of being inducted into the Country Music, Rock and Roll, and Gospel Music Halls of Fame. He was known for his deep, calm bass-baritone voice, a rebelliousness that was coupled with an increasingly sombre and humble demeanour.
His trademark free prison concerts and all-black stage wardrobe earned him the nickname "The Man in Black". He traditionally began his concerts by simply introducing himself, "Hello, I'm Johnny Cash," followed by his signature song "Folsom Prison Blues".
Johnny Cash tribute band Johnny Cash & Co featuring Fenton Oldmeadow (founding member of Perth's most recognised rock band The Jets) are renowned for their unparalleled energy and likeliness to Johnny Cash.
Fenton's exceptional performance boasts an unforgettable live event music experience that takes audiences back in time, and captures the essence of the iconic singer.